Holiday Mart Opens Its Doors for the 49th Year!

'Tis the season for Holiday Mart! The 49th Annual Holiday Mart, presented by the Junior League of Indianapolis (JLI), will take place this week from November 13-17, 2019 at the Indiana State Fairgrounds. 
What is Holiday Mart?
As the JLI's signature fundraising event, Holiday Mart is a multi-day shopping event that provides attendees access to over 120 specialty retailers offering unique home goods, holiday gifts, fashion, sports goods, childrens items, artisan food products and more. 
Holiday Mart is completely planned, produced and staffed by Junior League of Indianapolis members. The funds raised through HOliday Mart support the JLI's grant programs while are awarded to deserving local nonprofits supporting children and families in need or that are helping to prepare students for academic success. Since its founding, the Junior League of Indianapolis has been involved with more than 163 community projects through hands-on volunteering, and has donated or granted a combined total of more than $10.6 million to the community since 1922.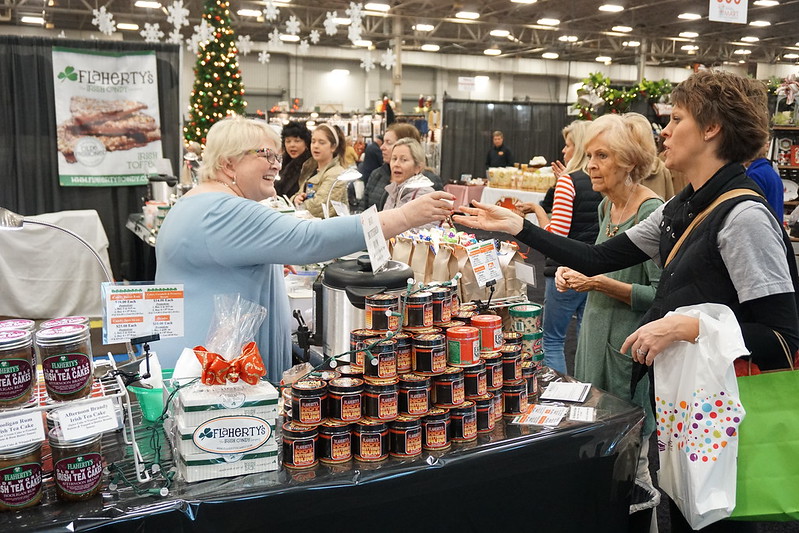 Special Events
Holiday Mart is continuing its traditional festive events as well as adding a couple new experiences for its shoppers. Tickets are available online or at the door for General Admission and additional special events.
Shoppers' Eve
JLI's Holiday Mart will continue to host its exclusive VIP event, Shopper's Eve, on November 13th from 6:00-10:00. Shoppers' Eve attendees not only have early access to our holly jolly vendors – the ticket also includes delicious hors d'oeuvres provided by local restaurants, limited complimentary beverages, photos with Nutcracker dancers from the Indianapolis Ballet Company, valet parking, and a ticket to return for another day of shopping!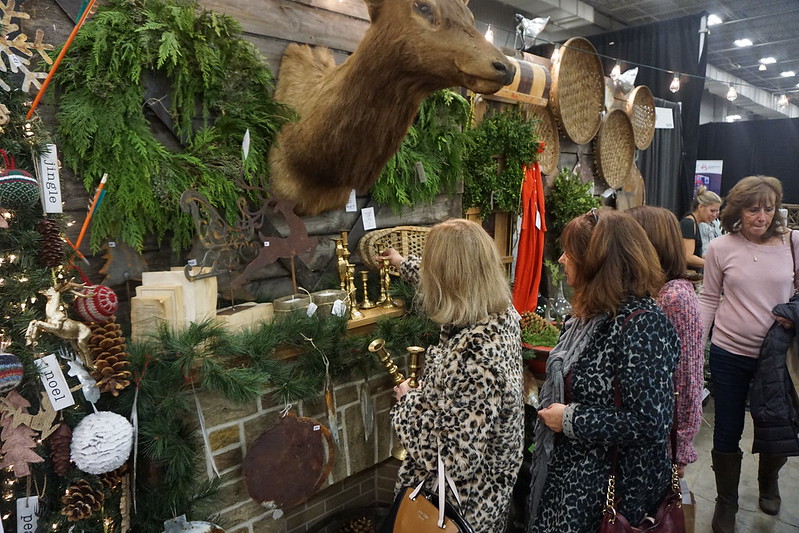 Champagne and Carols
During the Holiday Mart General Admission shopping days, JLI has planned to multiple events for shoppers. At Champagne and Carols on the morning of Saturday, November 16, adults will receive a complimentary drink and snack with early entry into the Mart to get first access to merchants that day, typically our busiest day of shopping! During the first hour of shopping, these early birds will also enjoy Christmas Carols by a children's choir. 
Scones With the Sugar Plum Fairies
On Sunday, November 17th, JLI has partnered again with the Indianapolis Ballet Company for a special breakfast with the Sugar Plum Fairies from The Nutcracker. At Scones With the Sugar Plum Fairies, Shoppers will have the opportunity to join the dancers, dressed in Nutcracker costumes, in conversation over a breakfast treat, pose for photographs with the dancers, and watch the dancers perform a ballet dance. Shoppers will also have access to Holiday Mart's vendors before the doors open to the public for the day.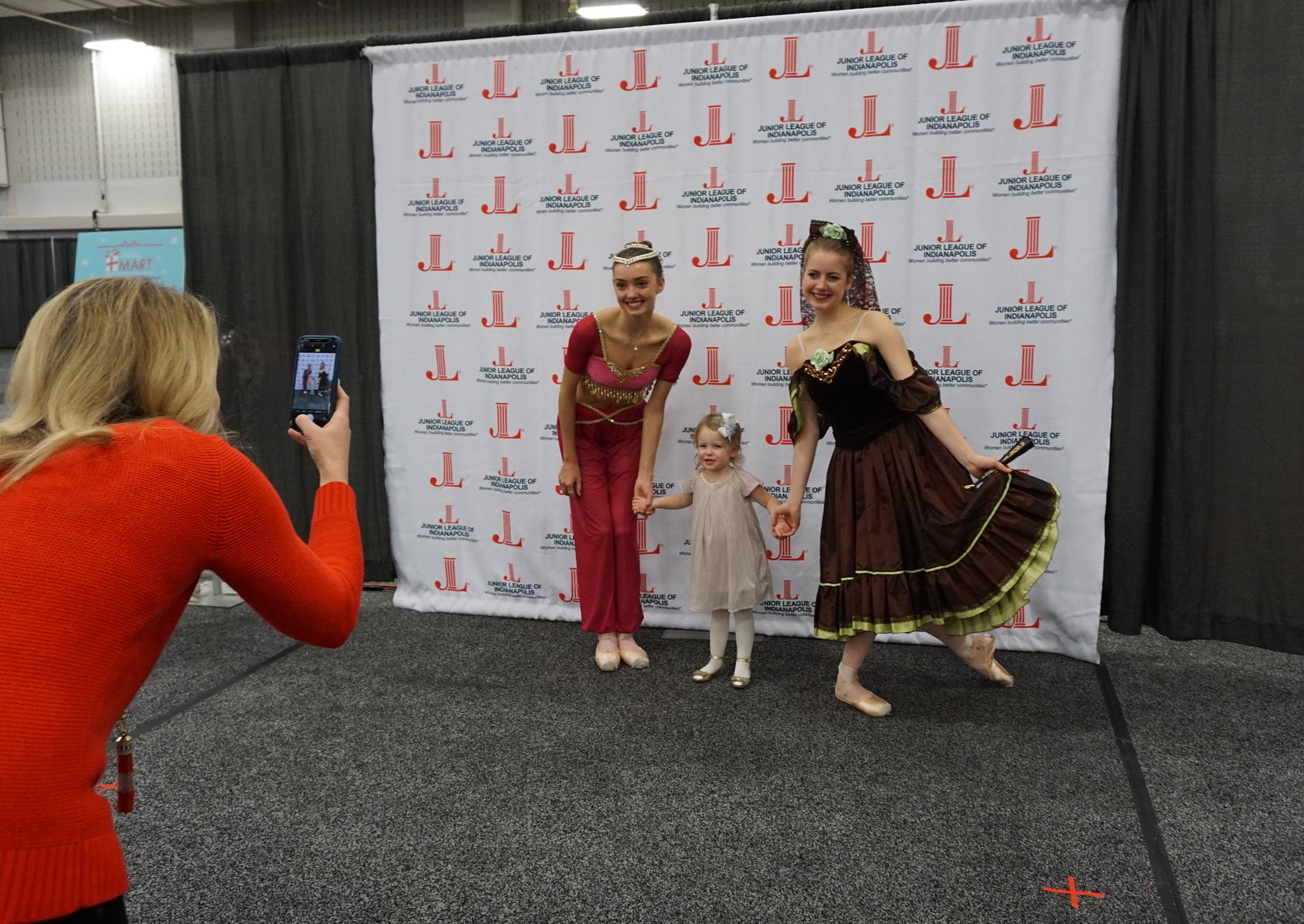 Enchanted Evergreens
Lastly, JLI has partnered with multiple local sponsors for an online auction of decorated evergreen trees and wreaths for an Enchanted Evergreens event. Bidding will take place beginning at Shoppers' Eve and will run through Saturday's general shopping hours. The winning bidders will be allowed to pick up their items at the conclusion of Holiday Mart. Trees and wreaths will be on display throughout the duration of Holiday Mart along with a placard featuring the sponsor's name and/or logo. 
Keep Your Feet Warm and Help Others By Buying Socks!
Be sure to stop by our Sock Station to purchase a pair (or three!) of socks! The JLI has once again partnered with "We Help Two" for the third consecutive year for a special initiative benefiting Hoosiers in need. Every pair of "We Help Two" socks sold at Holiday Mart will be matched by the Junior League of Indianapolis and given to a person in need through our partnership with the Julian Center. Due to the success of our past 2 years of this partnership JLI has been able to donate over 860 pairs of socks to women and children at the Julian Center for the winter.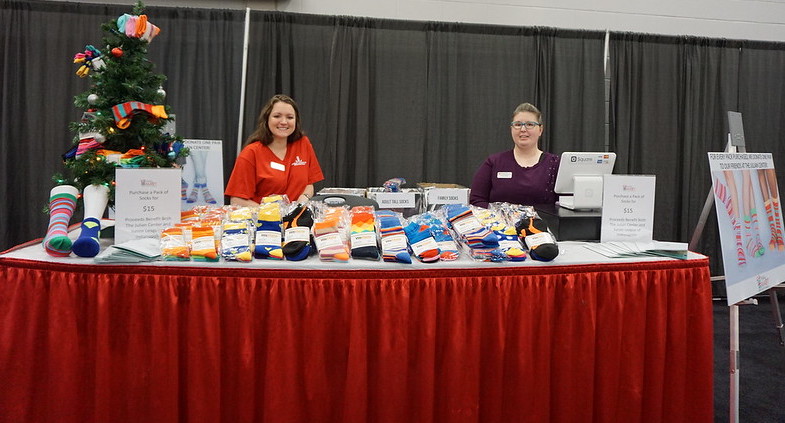 About the Junior League of Indianapolis 
The Junior League of Indianapolis (JLI) is an organization of women committed to promoting voluntarism, developing the potential of women and improving the community through the effective action and leadership of trained volunteers. Known as the premier training organization for women, the Junior League of Indianapolis has been developing community leaders and improving Indianapolis since 1922. Over the decades, the Junior League of Indianapolis has been involved with more than 163 community projects and donated more than $7 million to the community. Through successful fundraisers and dynamic community partnerships, the Junior League of Indianapolis reaches new heights year after year to truly impact our community.
The accomplishments of the Junior League of Indianapolis are many, varied and enormous, but none of those accomplishments would be possible without its members. The Junior League of Indianapolis is 900 women strong and growing. Each member is a gift to the organization and to the community.