Holiday Mart Sponsorship Opportunities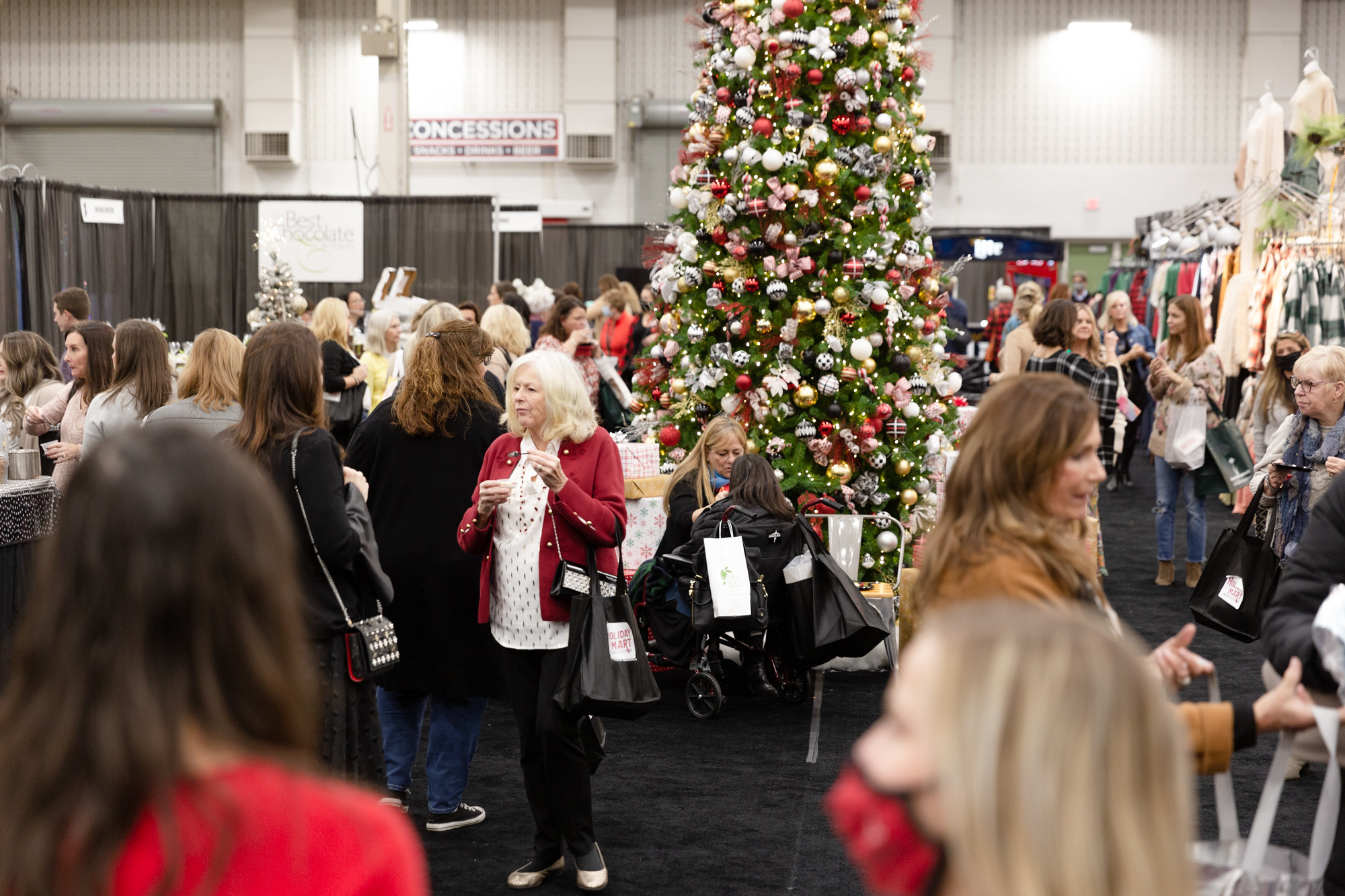 We are offering the following opportunities to sponsors and partners to showcase their business throughout our advertising campaign and event. To become a sponsor, please complete the information found in the Sponsorship Program and forward to HMsponsorship@jlindy.org.
For Shoppers Eve Swag Bags and Event Décor sponsorship programs, once the below information is received, an In-Kind Donation will be provided to you for submission.
General Sponsorship Levels
Gold Sponsorship: $7,500
Prominent signage as a sponsor of 2022 Holiday Mart
Logo with link displayed on Holiday Mart website
Four (4) JLI social media posts from August 2022 to November 2022
Name recognition in Holiday Mart controlled media (determined by the JLI)
Name and logo recognition in Holiday Mart Event Program
Opportunity to place promotional material of choice in Shoppers' Eve gift bags (600)
Six (6) Holiday Mart Shoppers' Eve Special Event Tickets
Forty (40) Holiday Mart General Admission Tickets
Half-page ad space in the JLI's quarterly print publication, The Hotline
Silver Sponsorship: $5,000
Prominent signage as a sponsor of 2022 Holiday Mart
Logo with link displayed on Holiday Mart website
Three (3) JLI social media posts from August 2022 to November 2022
Name recognition in Holiday Mart controlled media (determined by the JLI)
Name and logo recognition in Holiday Mart Event Program
Opportunity to place promotional material of choice in Shoppers' Eve gift bags (600)
Four (4) Holiday Mart Shoppers' Eve Special Event Tickets
Twenty (20) Holiday Mart General Admission Tickets
Quarter page ad space in the JLI's quarterly print publication, The Hotline
Star Sponsorship: $2,500
Prominent signage as a sponsor of 2022 Holiday Mart
Logo with link displayed on Holiday Mart website
Two (2) JLI social media posts from August 2022 to November 2022
Name recognition in Holiday Mart controlled media (determined by the JLI)
Name and logo recognition in Holiday Mart Event Program
Opportunity to place promotional material of choice in Shoppers' Eve gift bags (600)
Two (2) Holiday Mart Shoppers' Eve Special Event Tickets
Ten (10) Holiday Mart General Admission Tickets
Twinkle Sponsorship: $1,000
Prominent signage as a sponsor of 2022 Holiday Mart
Logo with link displayed on Holiday Mart website
One (1) JLI social media posts from August 2022 to November 2022
Name recognition in Holiday Mart controlled media (determined by the JLI)
Name and logo recognition in Holiday Mart Event Program
Opportunity to place promotional material of choice in Shoppers' Eve gift bags (600)
Two (2) Holiday Mart Shoppers' Eve Special Event Tickets
Five (5) Holiday Mart General Admission Tickets
Shopper's Eve Bag Sponsorship Levels
Cheer Sponsorship: $3,000
Prominent signage as a sponsor of 2022 Holiday Mart
Logo with link displayed on Holiday Mart website
Three (3) JLI social media posts from August 2022 to November 2022
Name recognition in Holiday Mart controlled media (determined by the JLI)
Name and logo recognition in Holiday Mart Event Program
Must provide to JLI: 1,000 reusable shopping bags or 600 items for Swag Bags
Four (4) Holiday Mart Shoppers' Eve Special Event Tickets
Twenty (20) Holiday Mart General Admission Tickets
Quarter page ad space in the JLI's quarterly print publication, The Hotline
Event Décor Sponsorship Levels
Tinsel Sponsorship: $3,000
Prominent signage as a sponsor of 2022 Holiday Mart
Logo with link displayed on Holiday Mart website
Three (3) JLI social media posts from August 2022 to November 2022
Name recognition in Holiday Mart controlled media (determined by the JLI)
Name and logo recognition in Holiday Mart Event Program
Opportunity to place promotional material of choice in Shoppers' Eve gift bags (600)
Two (2) Holiday Mart Shoppers' Eve Special Event Tickets
Fifteen (15) Holiday Mart General Admission Tickets
Quarter page ad space in the JLI's quarterly print publication, The Hotline
Snowflake Sponsorship: $1,500
Prominent signage as a sponsor of 2022 Holiday Mart
Logo with link displayed on Holiday Mart website
One (1) JLI social media posts from August 2022 to November 2022
Name recognition in Holiday Mart controlled media (determined by the JLI)
Name and logo recognition in Holiday Mart Event Program
Opportunity to place promotional material of choice in Shoppers' Eve gift bags (600)
Two (2) Holiday Mart Shoppers' Eve Special Event Tickets
Ten (10) Holiday Mart General Admission Tickets
Bell Sponsorship: $500
Prominent signage as a sponsor of 2022 Holiday Mart
Logo with link displayed on Holiday Mart website
One (1) JLI social media posts from August 2022 to November 2022
Name recognition in Holiday Mart controlled media (determined by the JLI)
Name and logo recognition in Holiday Mart Event Program
Opportunity to place promotional material of choice in Shoppers' Eve gift bags (600)
Two (2) Holiday Mart Shoppers' Eve Special Event Tickets
Two (2) Holiday Mart General Admission Tickets