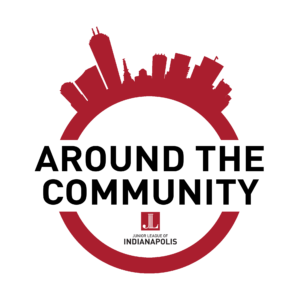 April Community Service
Around the Community, held annually for the last five years, is in April during National Volunteer week.  This community service program provided by JLI's membership, celebrates the JLI's mission of voluntarism and honors the founding anniversary of JLI.
Please take a moment to read about many of the successful, collaborative projects held the last few years with many community non-profits.  You may find your organization is a fit for  2019-2020.
Stay tuned for more information on our project details!
Watch to learn more about Around the Community.
Past Partners:
Indy Reads is a not-for-profit organization that relies on volunteers to provide basic literacy tutoring to illiterate and semi-literate adults. The profits from Indy Reads Books go directly toward improving literacy in the Indianapolis community.
Reach For Youth provides counseling programs to address behavioral and school suspension issues, depression, anxiety, sexual acting out behaviors and substance abuse for students in central Indiana.  Reach For Youth is home to a nationally recognized Teen Court program that brings juvenile offenders and trained youth volunteers together to provide a second chance to youthful offenders.
The Ronald McDonald House of Indiana provides a supportive home-away-from home experience, to more than 5,000 families receiving medical care at Riley Hospital for Children at IU Health and other area hospitals.
The United Way of Central Indiana's program "Read UP" pairs volunteer readers with students who need the most help to improve literacy and provide a foundation for educational success.
Starfish Initiative inspires, encourages, and prepares promising, economically disadvantaged students for college and career success. To achieve this goal, Starfish pairs economically disadvantaged high school students with college-educated mentors.