Holiday Mart Merchant FAQs
When is the JLI Holiday Mart?
The 52nd annual JLI Holiday Mart is Thursday, November 16 through Sunday, November 19, 2023.
2023 Event Hours
Thursday, November 16:         6 p.m. – 10 p.m.  ** Shoppers' Eve **
Friday, November 17:             10 a.m. – 8 p.m.
Saturday, November 18:         10 a.m. – 6 p.m.
Sunday, November 19:           10 a.m. – 4 p.m.
How many shoppers attend the JLI Holiday Mart?
We anticipate over 7,000 shoppers each year.
What is Shoppers Eve?
It is our private shopping kick-off event on Thursday evening (11/16/23) from 6pm-10pm.  Our shoppers arrive excited to get early access to shop our event, while enjoying food, cocktails, music, and festivities.  This event marks the beginning of the holiday shopping season for many in Indianapolis.
Who do I contact if I am interested in being a merchant at the JLI Holiday Mart?
Interested Merchants should visit the Become a Merchant page (JLindy.org) for additional details.
What is the cost to participate in the JLI Holiday Mart?
What is included in my booth rental fee?
Wi-Fi
Booth Signage
Booth Pipe and Drape
Cash treasury service (allowing you to exchange your larger bills for smaller bills)
Use of our Hospitality Suite (exclusive to Merchants only) that provides snacks and beverages during our event
Parking Pass

Enchanting Entrepreneur 6' x 10' Booth = 1 parking pass each
All other 10' x 10' and 10' x 15' Booths = 2 parking passes each

Meal Service (meal tickets for use at Fairgrounds concession or meal delivery; TBD by the JLI)

Thursday November 16 = Dinner
Friday November 17 = Lunch and Dinner
Saturday November 18 = Lunch
Sunday November 19 = Lunch
Do you take a commission from sales?
No.  Merchant admission is a flat fee.
What is the Merry Marketplace?
Our Merry Marketplace consists of 10×10 booths for artisan merchants and other small businesses.  All of these merchants are grouped together to create the Merry Marketplace.
Are corner booths available?
There are a limited number of corner booths available. Priority for placement will be given to merchants requesting a Corner placement based on date that ALL merchant requirements are received.
How do I select my booth(s)?
Booth Space reservation will be awarded on a first-come-first-serve basis. Upon submitting the signed Merchant Agreement to the Junior League, accompanied by a 50% deposit of the Booth Rental Fee, the requested booth size and location will be tentatively reserved for Merchant (exact booth location to be assigned upon confirmed availability by the Junior League).  Deposits shall be credited to the Booth Rental Fee.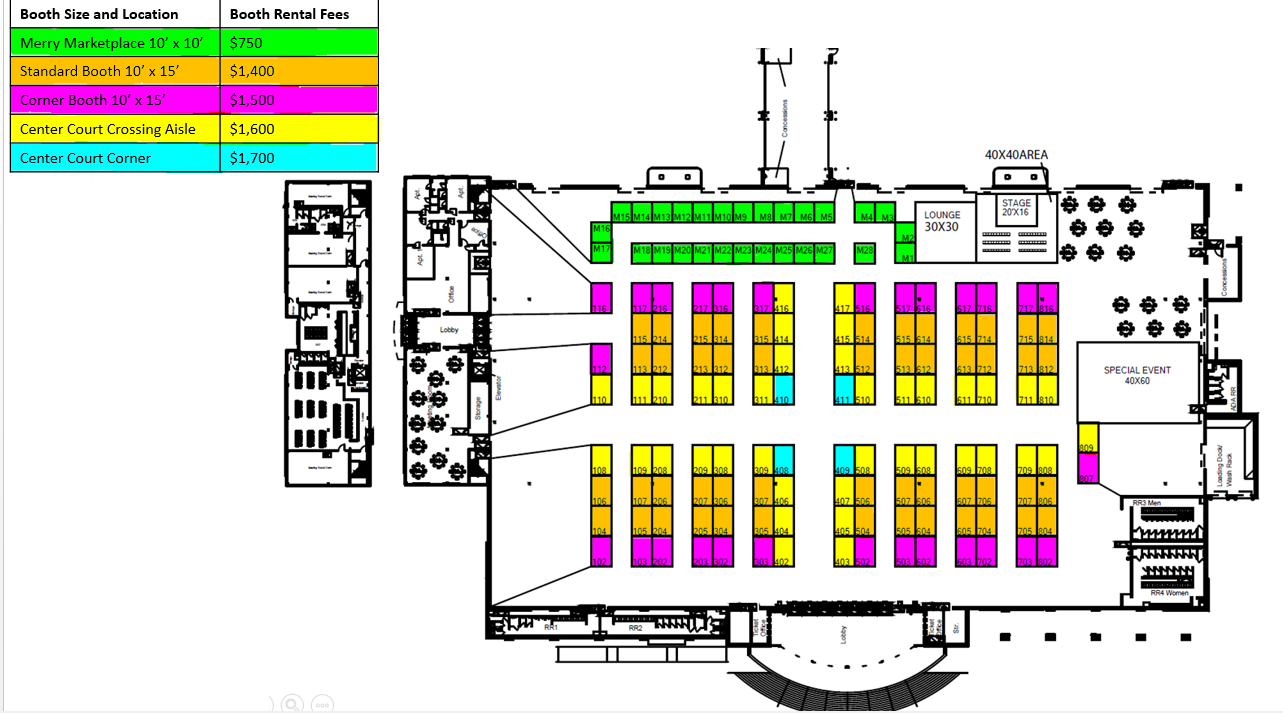 When are payments due?
Any Merchant which has not paid its full rental fee by October 31, 2023 shall have its reservation cancelled and the booth space will be given to an alternate Merchant.  Further, any deposits paid by such Merchant will be forfeited and non-refundable.
Are two (2) businesses permitted in one (1) booth?
Yes, however, one business will have to sign the contract for the booth space and take responsibility for the space.
When will I find out if I am selected to participate?
Applications are juried on a rolling basis. All applicants will receive notice of a decision within one (1) month of application.
Does the Indiana State Fairgrounds offer wireless internet services?
Wireless internet is included in your booth rental.  You will receive information on accessing the wireless internet upon arrival to the Indiana State Fairgrounds. 
Is storage available?
Storage is available on a first come first serve basis, due to limited spacing.  The Junior League is not responsible for items lost or stolen in this storage area. Use of this area by merchants is at their own risk.
Do you offer dressing rooms?
The Merchant, for an additional cost, may also rent additional equipment (including dressing room) for the Merchant's Booth Space.  Information concerning such rental can be found here.