Junior League of Indianapolis Makes Emergency Donation to Coburn Place to Address Coronavirus Impact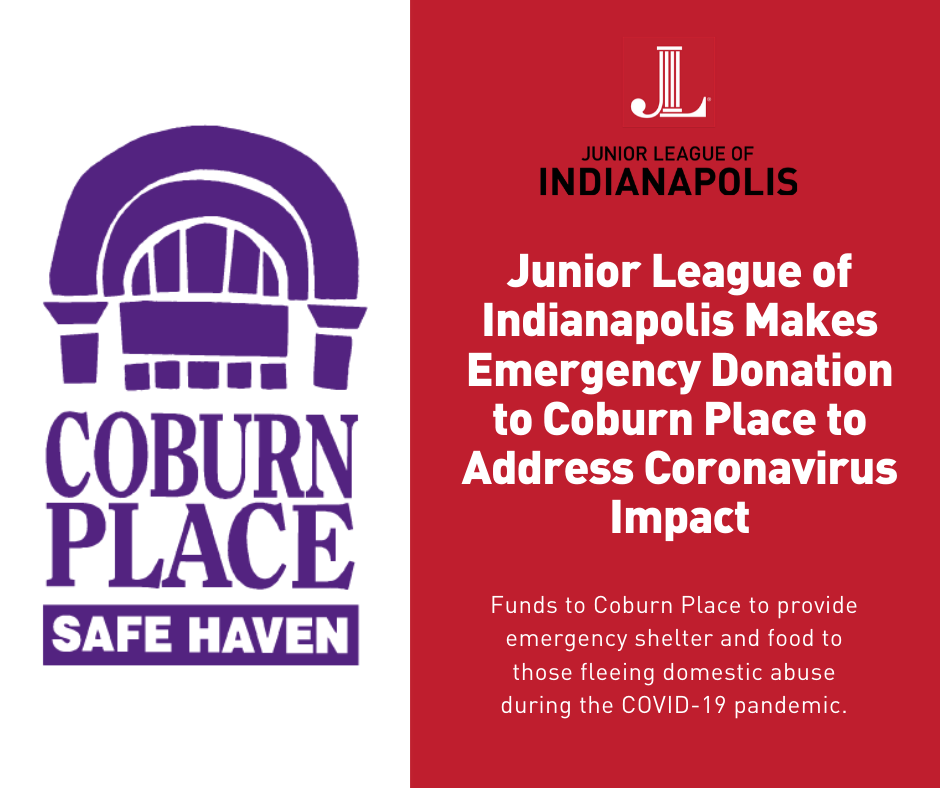 When the COVID-19 pandemic hit the Indianapolis community, the Junior League of Indianapolis (JLI) quickly formed the COVID-19 Response Task Force. The goal of this task force is to identify needs of the Indianapolis community in light of the COVID-19 pandemic, evaluate and create ways for the JLI to address those needs, and aid the community through engagement projects supported by our members.
At the onset of the pandemic, the Task Force distributed a survey to members to get a better understanding of the effects of COVID-19 on our members. The survey brought to light our members' passion for addressing two specific areas of need that have grown exponentially due to the pandemic: food insecurity and domestic violence. 
With a distinct call to action from membership, the task force set forth seeking education around the pandemic's effect on food insecurity and domestic violence within the Indianapolis community. Some statistics that stood out from the research include: 
This uptick in need has greatly impacted the already minimal and strained resources available to domestic abuse victims in Marion County. There are currently only 7 domestic violence and abuse shelters and programs in Indianapolis with 4 offering a hotline and 4 offering emergency shelter. 
After performing thorough research, it was clear the task force needed to identify an organization within Indianapolis that served the emergency shelter and food needs of survivors of domestic abuse. A thorough discussion brought forth Coburn Place as an organization serving both those needs. 
Many shelters are unable to accept new residents, either due to internal coronavirus outbreaks, being at full capacity, or because of protective measures to ensure the safety and health of staff and current residents. This increase in need has strained the ability of domestic violence shelters to provide basic food and housing needs to its residents. Coburn Place is the only transitional housing provider in Indiana for survivors of domestic abuse. They offer fully furnished apartments, a Community Housing option, robust children's services, and extensive assistance to survivors.
Due to the pandemic, the need for emergency shelter for domestic abuse victims has risen dramatically, and Coburn Place has stepped up to fill the void in services. Calls, texts, and inquiries around emergency shelter have tripled since the onset of the pandemic. They are now implementing an emergency housing program, which they are considering expanding into a full-time offering due to need. They also stock a non-perishable food pantry, which all survivors can access. Each resident is provided with two weeks of food upon being placed into housing. 
JLI has made a $3,500 donation to Coburn Place to help fund this emergency shelter program. The donation will provide week-long hotel stays to 11 survivors and full access to Coburn Place's well-being services, including financial assistance, therapy, children's programming, food and hygiene needs, and more.
"Having a safe place to live is paramount to keeping survivors and their families healthy. As even fewer emergency shelters are open right now due to COVID-19, the funds from JLI will allow Coburn Place to temporarily house domestic violence survivors in hotels until we can get them in a more permanent apartment," says Lauren Laski, Vice President of Development & Mission Advancement at Coburn Place. 
We are proud to support Coburn Place as they help assist survivors of domestic abuse with emergency shelter, food, and services. 
"During these difficult times, the need for emergency shelter and support for victims of domestic violence and their families has increased significantly in the Indianapolis community. We applaud the work of Coburn Place stepping up to this challenge," says Patrice Dawson, President of the JLI. 
To learn more about how the JLI is addressing community needs during the COVID-19 pandemic, click here. To learn how you can get involved or become a member of the JLI, click here.